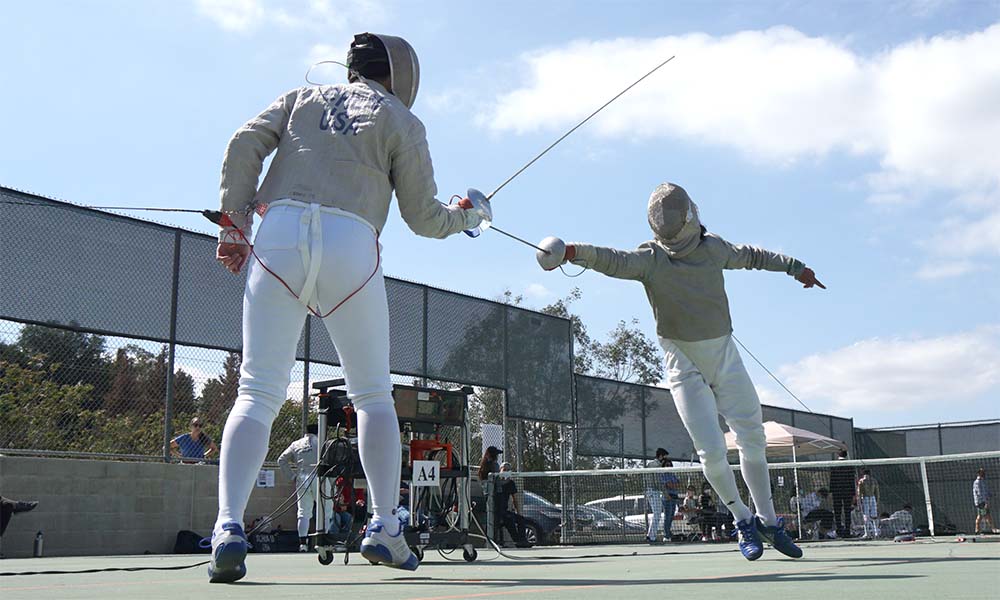 Ninety fencers from across Southern California made their way to the tennis courts at Calabasas High School on Saturday for this year's combined Junior Olympic and Summer National Qualifier Tournament. Sixty-five fencers qualified for Junior, Cadet, Division II and Division III events at the Junior Olympics and Summer Nationals to be held in Philadelphia, Pennsylvania from July 3-12, 2021. In addition, 13 fencers earned new ratings.
Congratulations to all our qualified fencers and good luck in Philadelphia!
Qualified fencers are listed below. Full results can be found, here.
Qualified Fencers (updated 5/25/2021)
| Name | Club(s) | Qualified For |
| --- | --- | --- |
| AHN Gus | Beverly Hills Fencers' Club / Le Lycee Francais de LA | U17ME DV2ME |
| BAUER Hank | LA International Fencing / Episcopal School of Los Angeles | DV2MS DV3MS |
| BAXTER David | Ace Fencing Academy | DV3ME VETME |
| BONIFIELD Arthur | Avant Garde Fencers Club | U17MS |
| BRISTOL Brijen | Avant Garde Fencers Club / Campbell Hall High School | U17MS |
| BRUSKOTTER Reiland | LA International Fencing | U17ME, DV3ME |
| CHI Alexander | United Fencing Academy | U17MF U20MF |
| CHO Michelle | South Bay Fencing Academy | U17WS DV3WS |
| CROSSMAN Brandon | LA International Fencing | DV3ME |
| DANIELYANTS Gabriela | LA International Fencing | U17WF |
| DUAN Konnie | Harvard Westlake / United Fencing Academy | U20WF U17WF |
| ECKSTEIN Harriet | Presidio Fencing Club | DV2WF DV3WF VETWF |
| ERIKSON Kira | South Bay Fencing Academy | DV2WS DV3WS |
| FRANEK Lisa | LA International Fencing | DV3WE VETWE |
| GAURIAT Jade | LA International Fencing | DV2WE DV3WE |
| GAURIAT Oliver S. | LA International Fencing | VETME |
| GIANETTO Ethan | South Bay Fencing Academy | U17MS |
| GODZHIK Zachary | United Fencing Academy | U17MF |
| GOLOVITSER Maya | South Bay Fencing Academy | DV3WS |
| GRAYSON Shane | unattached | U17ME U20ME |
| HARRIS Rhonen | Elite Fencing Club | DV3MF |
| HASNAH Henry | South Bay Fencing Academy / Bishop-Montgomery HS | DV2MS |
| HODESS Ethan | Elite Fencing Club | U20MF |
| IIZUKA Sawako | Avant Garde Fencers Club | DV3WS VETWS |
| KIM Elyssa | South Bay Fencing Academy | U17WS |
| KIM Sterling | LA International Fencing | U20ME |
| KOLL-BRAVMANN Ryder S. | Avant Garde Fencers Club | U20WS U17WS DV2WS DV3WS |
| KORINTH Steve | South Bay Fencing Academy | VETMS |
| KROON Lucas | South Bay Fencing Academy | DV3MS |
| LEE, Matthew | Beverly Hills Fencers' Club | U20ME |
| LI Joshua | Southern California Fencing Academy (SOCALFA) / Maranatha Hligh School | DV2MS |
| LICHT Aaron | LA International Fencing | U20MS U17MS DV3MS |
| LIRA Daine | Avant Garde Fencers Club / Santa Monica HS | U17MS |
| LOCASALE Nicholas | LA International Fencing | VETME |
| MIYASAKI-CASTRO Masanobu | South Bay Fencing Academy | U20MS U17MS |
| MOHEBI Neeka | Ace Fencing Academy | DV3WE U17WE |
| MOHEBI Saam | Ace Fencing Academy | DV2ME |
| MOHEBI Sue | Ace Fencing Academy | DV2WE DV3WE VETWE |
| MORENO Francesca | Elite Fencing Club | U20WF U17WF |
| MUSHER Benjamin | LA International Fencing | DV2MF DV3MF |
| NAM Cassie | unattached | DV2WF DV3WF |
| NGUYEN Tallulah | Swords Fencing Studio | U20WE U17WE |
| OLSHANSKY Eliora | United Fencing Academy | U17WF |
| PADOS Anna | Avant Garde Fencers Club | U17WS |
| PATEL Riya | South Bay Fencing Academy | U20WS U17WS |
| PIESNER Zachary | LA International Fencing Center | DV3MF |
| PRIETO Sofia | United Fencing Academy / Foothill Tech HS | DV2WF |
| PRIMES Amanda | LA International Fencing | DV2WE |
| REED Samuel | South Bay Fencing Academy / Loyola High School | U20MS U17MS |
| RHEE Ethan | Avant Garde Fencers Club | U20MS U17MS |
| RICHARDSON Troy | Avant Garde Fencers Club | VETMS |
| SCHULZE-KALT Graydon | Elite Fencing Club / Harvard Westlake | DV2MF DV3MF |
| SHA, Michael | Swords Fencing Studio | U17ME |
| SOOHOO Claire | Beverly Hills Fencers' Club / Avant Garde Fencers Club | U20WE U17WE |
| SOOHOO, Jackson | Beverly Hills Fencers' Club | U20ME U17ME |
| VAZQUEZ Zander | LA International Fencing / Presidio Fencing Club | U17MF U20MF DV2MF DV3MF |
| WALL Sophia | United Fencing Academy / Chaminade | U20WF U17WF |
| WALLACE Taylor | South Bay Fencing Academy / Rolling Hills Preparatory School | DV3MS |
| WANG Devon | LA International Fencing | U20ME U17ME DV2ME DV3ME |
| WHARTON David | United Fencing Academy | DV3MF VETMF |
| YANG Lea | South Bay Fencing Academy | U20WS U17WS DV2WS DV3WS |
| YANICELLI Sloane | LA International Fencing | U17WF |
| YOO Joshua | LA International Fencing | U17MS U20MS DV2MS DV3MS |
| ZHOU Stanley | LA International Fencing / No Fear Fencing | DV2ME |