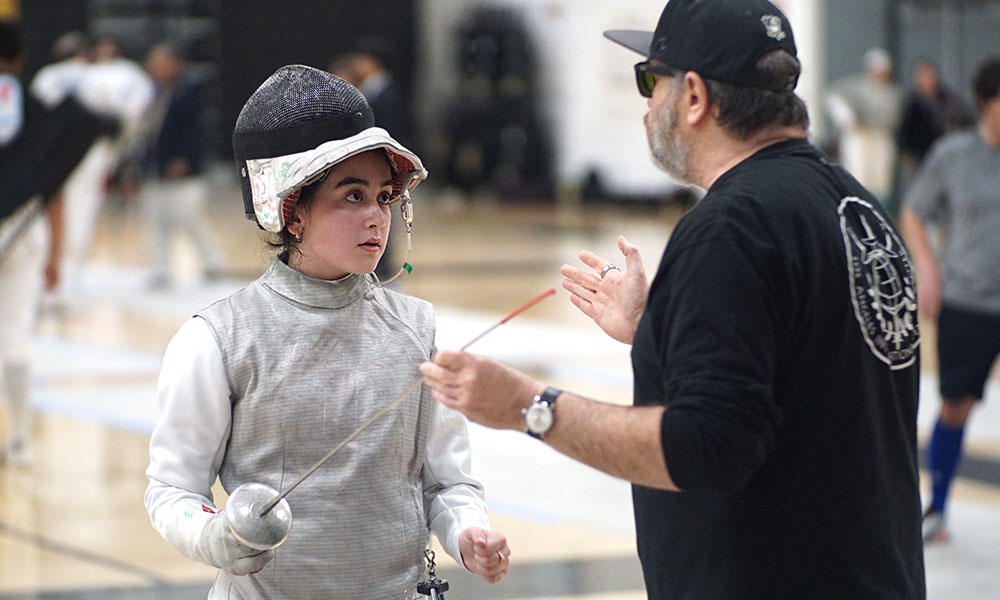 Fifty-nine SoCal fencers fought their way to the top at this year's Summer Nationals Qualifier in Calabasas on Saturday to earn the right to compete in the 2023 Summer Nationals to be held later this year. Fencers qualified by finishing in the top 25% in their events (Veterans qualified regardless of results).
The Summer Nationals (technically known as the National Championships & July Challenge) are held annually in various cities across the country where more than 4,000 fencers vie for medals and titles in dozens of events, making it the world's largest fencing tournament. This year's competition will be held in Phoenix, Arizona from June 30 to July 9, 2023.
Congratulations to all of our qualified fencers and good luck in Phoenix!
Qualified fencers are listed below. Full results can be found here.
Qualified Fencers
| Name | Club(s) | Qualified For |
| --- | --- | --- |
| AGUILAR Keops | BHFC | DV3MF |
| ANDONIAN Lauren | UFA | Y14WF DV2WF DV3WF |
| BARRIOS Diego | SBFA | DV2MS DV3MS |
| BAXTER David | Ace | DV3ME VETME |
| BRAKEY Ryan | AGFC | DV2MS DV3MS |
| BROWN Riley | LAIFC | DV2WE DV3WE |
| CHEN Brian | Precision | DV3MF |
| CHEN Elaine | SBFA | DV3WS |
| CHI Alexander | UFA | DV2MF |
| CHI Everett | WCFA | Y14MS |
| COOK Ryan | Swordplay | DV2MF DV3MF |
| CROSSMAN Brandon | Teamk | DV2ME |
| DALVA Michael | LAIFC | DV3MF |
| DANIELYANTS Gabriela | LAIFC | DV2WF DV3WF |
| DURR Strahlia Devi | Elite | DV3WF |
| ECKSTEIN Harriet A. | Presidio | DV3WF VETWF |
| FLANAGAN Miles | BHFC | Y14MF |
| FOY Grant | Elite | Y14MF |
| FU Adrian | LAIFC | Y14ME |
| GOLOVITSER Maya | SBFA | DV2WS DV3WS |
| GOURNEAU Sophie L. | AGFC | DV3WS |
| GREENSTEIN Viktor | LAIFC | Y14MS |
| JEFFORDS Sophia | SBFA | DV3WS |
| JOO Jeein | SBFA | DV2MS DV3MS |
| JORDON Kaleb W. | UFA / Points West | DV2MF DV3MF |
| KIM Alexander | LAIFC | Y14ME |
| KIM Alice | SBFA | Y14WS |
| KIM Caitlin | AGFC | DV2WS DV3WS |
| KIM Remington | LAIFC | Y14ME |
| KORINTH Alexander J. | SBFA | DV3MS |
| KORINTH Jacqueline | SBFA | Y14WS DV2WS DV3WS |
| LAY Apollonia | BHFC | Y14WF DV2WF DV3WF |
| LEE Steven | LAIFC | Y14MS |
| LESUEUR Luke J. | AGFC | DV3MS |
| LUCAS Ava | Elite | Y14WF |
| MCCARVILL Cooper | BHFC | DV3MF |
| NICHOLS Andy J. | Presidio / SCFC | DV2MF DV3MF |
| NICHOLS Lucas T. | Presidio | DV3MF |
| ORNELAS Matteo | Elite | Y14MF DV3MF |
| ORNELAS Polo | BHFC / Elite | VETMF |
| PAINTER Noah | BHFC | DV2ME DV3ME |
| PEÑA Ethan | BHFC | DV2ME DV3ME |
| PHAN Genevieve | WCFA | Y14WS |
| PINCHUK Meghan | Ace | DV2WE DV3WE |
| PRIMES Amanda M. | LAIFC | DV2WE DV3WE |
| RUVOLO Arwen | BHFC | Y14WE |
| SCHIENEMAN Valentine | LAIFC | DV2MF DV3MF |
| SHERMAN Olivia | BHFC | Y14WE |
| TEMPLEHOF Robert C. | | DV3ME |
| TSOI Spencer | Precision | DV2MF DV3MF |
| TSUI Zoe | BHFC | DV3WE |
| UM KIM Hyun Hee Lorena | Teamk / BHFC | DV3WE |
| VARON David | Conejo | DV3ME VETME |
| VARON Lynn L. | Conejo | VETWS |
| WANG HongXi | SBFA | DV3MS |
| WHARTON David | UFA / Conejo | VETMF |
| WONG Baron | BHFC | Y14ME |
| YANICELLI B.B. | LAIFC | DV3WF |
| YOUSSEF Caroline | LAIFC | Y14WE DV3WE |